Gozuk Medium Voltage Frequency Inverter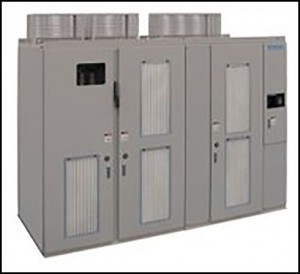 The New Medium Voltage frequency inverter from Gozuk
The Gozuk EDS1000 is a full featured Medium Voltage frequency inverter, providing outstanding quality, performance, reliability from 200 HP through 5000 HP. It utilizes Gozuk's Smart HarmonicsTM Technology which reduces input power Total Harmonic Distortion (THD) to less than 50% of the IEEE519-1992 levels.
The system incorporates an input transformer providing galvanic isolation, minimizing common-mode effects in the motor load. The output uses 2 integrated power cells per phase which produce a 17-level waveform (line to line) at the motor terminals. The result is a frequency inverter that requires no supplemental filtering to achieve excellent power quality on the input and a near sinusoidal, motor friendly, output waveform.
The EDS1000 inverter has an industry-leading mean time between failures (MTBF) of 200,000 hours. The design is also highly modular, ensuring that any field replacement consumes minimum time. The control and programming are common with the Gozuk EDS1000-series, using the same operator interface, communication modules, encoder feedback etc. Also, available is the DriveWizard® plus MV software package for parameter set-up, configuration and trending, which is very similar to the popular Drive Wizard Industrial package.
Features and Benefits
Closed or open loop vector control for outstanding regulation and torque production
Commonality with the A1000 low voltage product line
Optional Input Switchgear package (non-load break switch, current
limiting fuses and vacuum contactor)
MTBF of 200,000 Hours
Simple modular design across the entire product range from 200 HP to 5000 HP
Continuous Auto-Tuning optimizes performance by compensating for changes in motor temperature
Fast-acting current and voltage limiters for tripless operation of demanding loads
Preventative Maintenance Monitors provide alarms for scheduling work before problems occur, including multiple temperature monitors in all windings of the multi-phase transformer and individual power cells
Communication interfaces for all major industrial networks
Expandable I/O and feedback modules for control flexibility
DriveWizard® plus MV computer software and Application Sets for easy configuration
USB Copy Unit provides a convenient way of duplicating frequency inverter configuration
Due to the EDS1000
frequency inverter
superior input harmonics and output waveform performance, it addresses Constant Torque (CT) applications in addition to the traditional pump and fan Variable Torque (VT) loads.
Industries
Oil and gas
Water & wastewater
Power generation
Tire and rubber
General purpose industrial applications.
Available Ratings
2400 V, 200 through 2750 HP
4160 V, 300 through 5000 HP